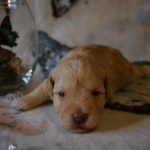 I have a beautiful wheaten female that is going to have a red peach  gorgeous mega coat. She will be ready for her new home on October 21. Pet price for her is $1,500.00. Parents are Dori and Noah.
I have a new litter of puppies born  September 14th from Skye and Boaz. I have 4 females. Pet prices for mega coated black, wheaten puppies are $1,200.00. and for the chocolate pepper parti $1,300.00. The rare red wheaten male $1,700.00. All my puppies are well socialized with children and dogs.
I will consider selling a couple of these puppies for breeding – I will only sale to a small breeder.